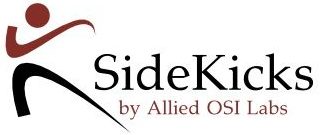 Designed for OTC. Crafted with Custom Quality.
Allied OSI Labs offers both the SideKicks SportMate and Freestyles lines of OTC orthotics.
To help you know which type is best for your patients, keep in mind that the SportMate is full-width, making it slightly wider than most custom orthotics and has a JM MicroSilver™ padded topcover.
The SportMate is available only from medical professionals.
SIDEKICKS SPORTMATE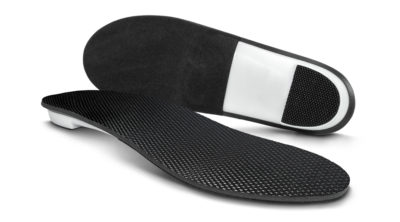 Shell: Semi-rigid polypropylene
Forefoot Post: None
Rearfoot Post: 4° extrinsic or no post
Length: Full or met-length
Width: Wide
Top Cover: JM MicroSilver™
Bottom Cover: Suede
Features: Non-skid heel protector & heel spur pad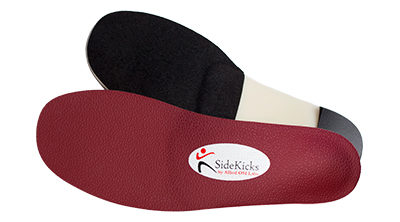 FREESTYLE WALKER
Shell: Semi-rigid poly
Length: Full or sulcus top cover with 1/8" EVA padding
Rearfoot Post: Black crepe 4° extrinsic; non-posted optional
Bottom Covers: Suede under forefoot only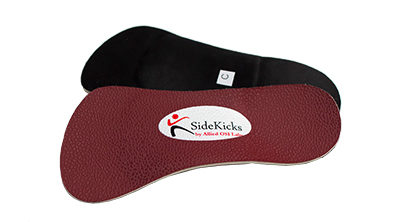 FREESTYLE HIGH HEEL
Shell: Semi-rigid poly
Length: Full or sulcus top cover with 1/8" EVA padding
Bottom Covers: Suede under entire device
Features: Hourglass shape & no shell in heel for better shoe fit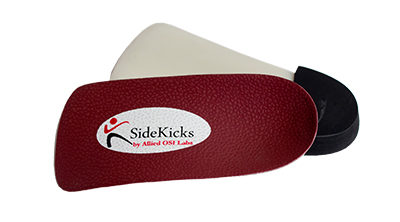 FREESTYLE SUPPORT
Shell: Semi-rigid poly
Length: Met top cover with 1/8" EVA padding
Rearfoot Post: Black crepe 4° extrinsic; non-posted optional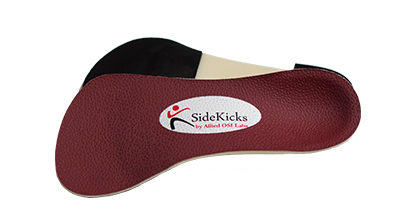 FREESTYLE CASUAL
Shell: Semi-rigid poly
Length: Full or sulcus top cover with 1/8" EVA padding
Rearfoot Post: Black crepe 4° extrinsic; non-posted optional
Bottom Covers: Suede under forefoot only
Features: Hourglass shape & hole in heel for better shoe fit