SUPERSPORT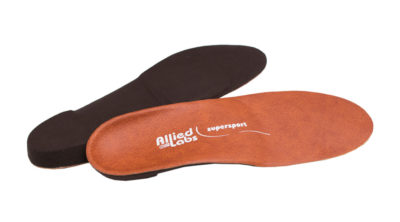 The Supersport is a versatile orthotic providing foot control for activities with side-to-side motion and controls the forefoot in gait cycles where there is a very short or no heel strike. It comes with a full-length top cover, 1/8" Poron® padding, and an Ultrasuede® bottom cover. This device's distinguished features include intrinsic forefoot posting with an additional 3° Runners Wedge and an extrinsic crepe rearfoot post. The Runners Wedge is an extra 3° varus crepe extrinsic posting in the forefoot extended under the metatarsal heads, tapering off distally and becoming incorporated into the forefoot extension. This Runners Wedge allows the forefoot post to function even when the heel strike is very short or the gait pattern is toe-to-toe. Consider the Supersport for activities such as basketball, racquetball, tennis, running, sprinting, football, and golf.
Product Applications
Mild to Moderate Knee Pain
Shin Splints
Foot Fatigue
Plantar Fasciitis
Plantarflexed 1st Ray and Sesamoid Problems
Moderate Forefoot & Rearfoot Varus or Valgus
Standard Patient Weight
Patients 161-299 lbs
WALKER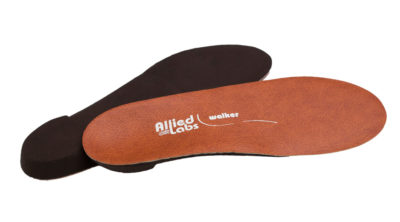 The Walker is a durable, all-purpose orthotic designed specifically for walking activities. It is semi-flexible, but can be ordered in a variety of shell materials. It comes with a full-length top cover, 1/8″ Poron padding, and an Ultrasuede bottom cover. Standard intrinsic forefoot posting and extrinsic Corex rearfoot post.
Standard Components
Shell: 1/8" polypropylene
Heel Cup Depth: 12mm
Forefoot Post: Intrinsic
Rearfoot Post: Extrinsic corax
Length: Full
Padding: 1/8" Poron®
Top Cover: Vinyl
Bottom Cover: Ultrasuede®
Product Applications
Plantar Fasciitis
Heel Spurs
Capsulitis
Shin Splints
Neuroma
Generalized Foot and Leg Pain
Standard Patient Weight
Patients up to 160 lbs
NYLON-Rx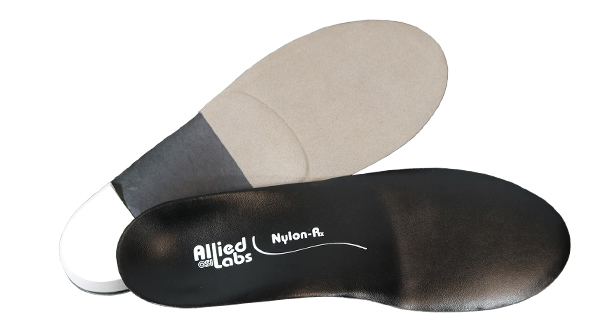 Nylon-Rx Composite Shell allows for several advantages over other lightweight shell materials including the ability to make accommodations in the shell. Heel cups can be ordered deeper, creating a stronger product for pronation control.
Standard Components
Shell: 3mm rigid black nylon composite (also available in 2.5mm semi-rigid black nylon composite and 2.0mm semi-flex beige nylon composite)
Forefoot Post: Intrinsic
Rearfoot Post: Extrinsic white crepe
Length: Full
Padding: 1/8" Poron®
Top Cover: Vinyl
Bottom Cover: Ultrasuede®
Product Applications
Plantar Fasciitis
Metatarsalgia
Heel Spurs
Ankle Instability
Shin Splints
Neuroma
Generalized Foot and Leg Pain
Standard Patient Weight
Patients up to 161-299 lbs
ADDITIONAL CUSTOM ORTHOTIC CATEGORIES