Introducing Our Newest AFO!
Allied OSI Labs is now offering your patients an option for fall prevention. Protect patient falls by reducing postural sway and reinforcing weak and/or fatigued feet and ankles.
Provide the quality you expect from Allied OSI Labs in a custom AFO! Enhance your patients' outcomes for:
Maintaining balance

Improving gait stability

Improving chronic ankle instability

Alleviating pain from arthritic ankles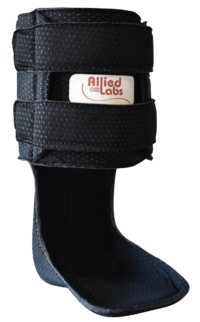 Product Applications
Imbalance
DJD of Ankle and Rearfoot
Dropfoot
Lateral Ankle Instability
Casting Options
Allied OSI Labs iPad Scanner
STS Casting Sock: Midleg Length
Note: The cast or scan must come up higher than the brace height and capture the foot, ankle and posterior leg. Cast or scan as close to 90 degrees as possible.